Oakland Athletic League (OAL) understands and advocates for the importance of sports in the lives of children. The nonprofit organization is a branch of the Oakland Unified School District (OUSD), working to expand students' access to sports and physical activity. Eat. Learn. Play. is proud to partner with OAL as part of our work to invest in middle school sports and ensure that all Oakland students can experience the joy and benefits of participating in free, high-quality sports programming at their schools.
OAL is led by its Commissioner Franky Navarro and Assistant Commissioner Lamont Robinson. Both leaders were born and raised in Oakland, and their personal connections and memories of Oakland strengthen their motivation to do great work in The Town. Navarro recalls his own journey as an athlete growing up in Oakland, "My experience as an athlete is something I still remember 25 years later, and I really credit a lot of my success in life to that. When I think about what I want my legacy to be, I want kids to grow up and say their experience playing in sports through OAL did for them what it has done for me."
The vision begins with sports and ends in infinite possibilities. Robinson connects to our Co-Founder Stephen Curry's slogan "change the game for good." Robinson says, "Sports plays a part in everything we do in life—whether you play, work, or watch. The one thing that always galvanized a community is sports. This is a key pillar to changing the game for good. It's just being able to provide opportunities for folks to be a part of something and really be proud of where they come from, what they're a part of, what they're rooting for, what they're trying to come back and give back to."
Navarro follows by explaining how sports are just the start of a revolution for more change,
"What we're trying to do is make a positive impact in the community that will result in many other positive things such as reducing violence and increasing opportunities for kids."
-Franky Navarro, Oakland Athletic League Commissioner
OAL brings sports into middle schools and high schools in OUSD through sports clinics and programming, increasing the access to these sports for many OUSD students whose families often lack the financial resources to fund a sports team commitment. OAL trains coaches to become holistic supporters for each OUSD student athlete they interact with.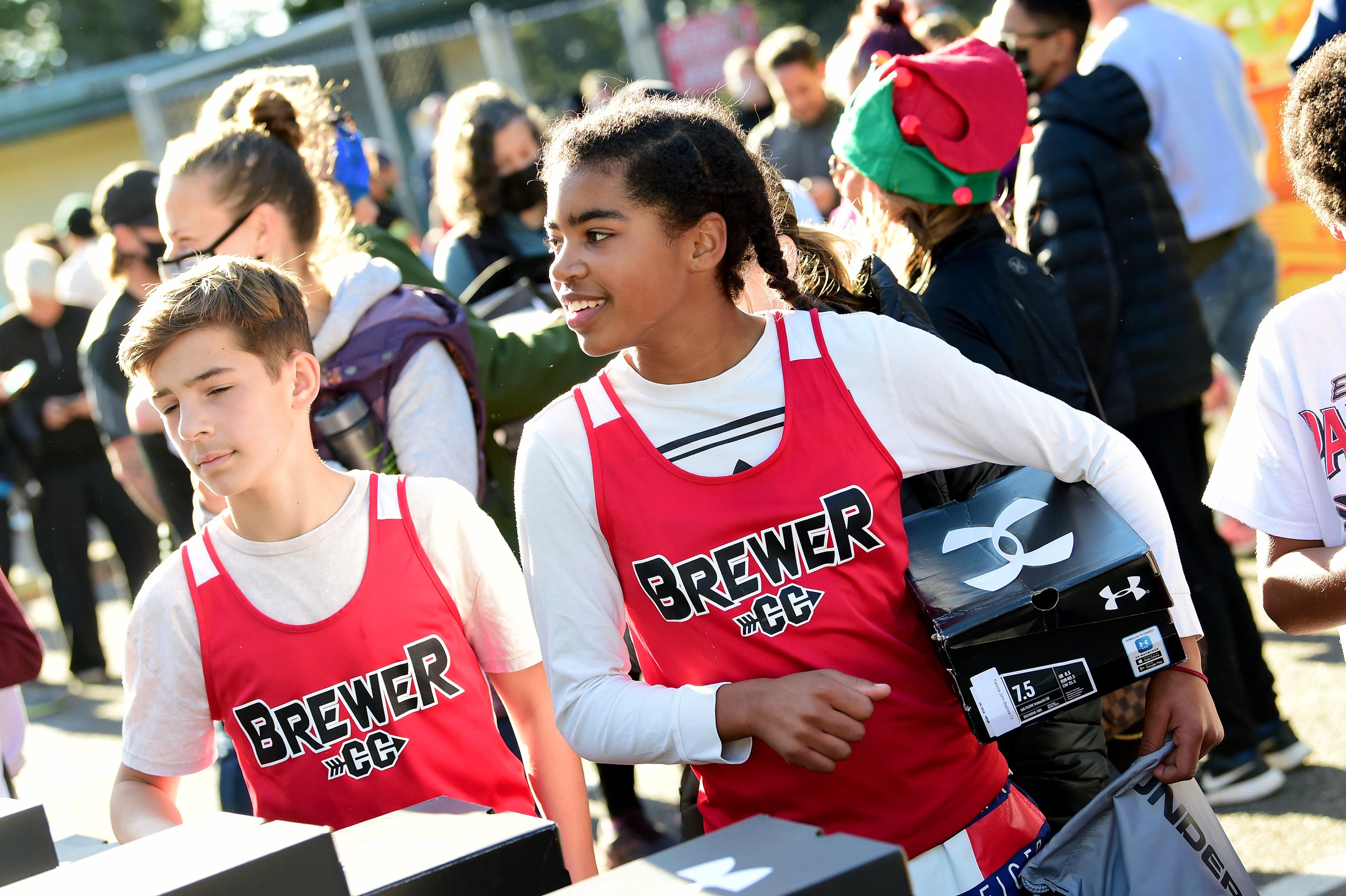 Eat. Learn. Play. offers funding, connections, and services to boost the work of Oakland Athletic League. Navarro speaks on our partnership, "With the support of Eat. Learn. Play., we have been able to achieve our goal of introducing OAL Middle School Sports throughout our OUSD footprint. We have collaborated to structure and plan middle school sports activities that will result in high participation at our high schools." The connection is special, something that will last a lifetime for the students. Just like how sports changed Navarro's life, OAL has that same vision for generations of OUSD students.
Since our partnership began there have been many memorable events such as the 2021 Christmas With the Currys, where the Eat. Learn. Play. team and Bus showed up at OAL's Cross Country Championships to provide every middle-school runner with shoes and cheers, plus OAL received a $150,000 donation.
Navarro recollects how OAL has been able to reach more students since the partnership with Eat. Learn. Play., "What resonates with me when I go to these events is the number of thank you's we get from parents and overall, the appreciation." The commitment that OAL has for OUSD students is lifelong, and Eat. Learn. Play. is excited to be a part of this ambitious, powerful mission.
Over the next three years, Eat. Learn. Play. will make investments to fuel active childhoods by meeting kids where they play most—at schoolyards and community playspaces. In addition to transforming 25+ schoolyards, we will continue to invest in the growth of middle school sports opportunities through Oakland Athletic League as well as at the elementary school level through OUSD's Expanded Learning programs, ensuring robust sports offerings for all genders and students with disabilities.
Original Article – https://www.eatlearnplay.org/blog/expanding-sports-for-oakland-students